In this exclusive video interview, Jim Wicklund of Wicklund & Associates, discusses how governance is integral to incentivizing companies towards sustainable business solutions.
Following their panel at Hart Energy's Energy ESG conference last month, Jim Wicklund joined Emily Easley for a deeper dive discussion on the role of governance in incentivizing a disciplined approach to growth and returns.
Easley, CEO of NOVUS Energy Advisors, has spent the last decade working with oil and gas companies in the now defined energy transition industry, building on her Texas oil and gas roots and 20 years in the renewable power business.
Wicklund has spent over 40 years in the oil and gas industry as head of the energy research group at Rauscher Pierce (now Royal Bank of Canada) managing director and head of energy research at Banc of America Securities Inc., senior oilfield services analyst at Credit Suisse, and most recently as a senior banker and managing director in energy investment banking for Stephens Inc.
Now starting a new chapter leading Wicklund & Associates, Wicklund shares his perspective on the energy ESG movement, what keeps him up at night, where the growth opportunities are for services companies, and why and how "this could be one of the best, longest, most productive and profitable cycles we've seen in a long time, all while addressing the environmental concerns along the way."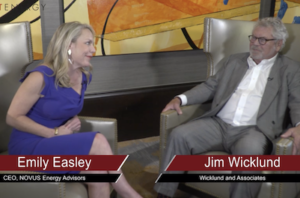 ---
See original interview published on Hart Energy here.